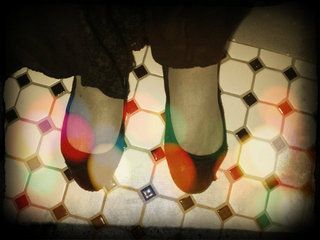 No ruby slippers over here, so onyx ones will have to do. Another conference down, suitcases unpacked, and back to the day to day business of writing. For extroverted writers like myself, and the delightful Mo, whom my roomie, Melva, and I chatted with on Friday night, a conference is the best of both worlds. It's often said that writing is a lonely profession, and writer's conference are filled with introverts pretending to be extroverts, and there is some truth to that. We extroverts find these things our natural habitats. Plunk us down in a hotel with a few hundred people who also love writing and reading romance? We're there. Don't need to ask us twice. Old friends, new friends, professional contacts, strangers, it's all good. One universal opening line, "so, what do you write?" is applicable in pretty much
every single encounter
. How great is that?
Of course, the free books at every meal don't hurt, and where else am I going to get mini red velvet cupcakes whenever I want them? Fabulous workshops, a lovely hotel, and a publisher chat that gave me a much needed aha moment to reignite my fire on a particular work. Two entire days where my entire identity was Romance Writer can mean quite a comedown when I return home and have to balance all the other hats of daily life on top of the sparkly tiara.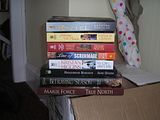 Note that I said it "can" be, rather than it "must" be. I had a rush of post-conference letdown on Sunday evening; I'll admit to that much. All the fun was over and now it was time to put nose back to the grindstone. If only, I said to myself (okay, truth be told, to the stuffed pink flamingo who lives on top of my research books)there was a way to make the conference spirit last all year long, like Scrooge kept Christmas at the end of
A Christmas Carol
.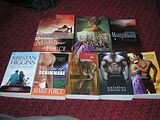 As it turns out, there is. Favorite bookmarks, postcards or other swag from those gorgeous promo tables can get a permanent spot on a bulletin or inspiration board, or in the pages of an art notebook, along with photos (click thumbnails to make bigger), packets or tags from some of the many cups of tea consumed and other ephemera. Associate a particular tea or treat with the conference? That's easy enough to duplicate at home. I didn't come home with any centerpieces this year (must be in counterpoint to last year, when I won all but one of them) and no giveaway baskets, but for those who did, there's another reminder.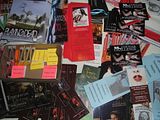 The best reminder, though, is the people. There may be no conference this week, but I am headed to my CORW meeting, in the company of conference roomie, Melva, and get to rehash the entire weekend with other members who were able to attend, and bring the virtual experience to those who weren't. I'm pretty sure nobody would dare challenge me if I decided to wear the tiara; nobody wants a repeat of last year.