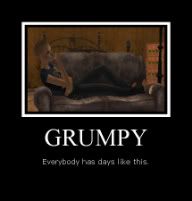 Everybody has grumpy days, and since I've landed smack in the middle of one, that does affect the choices of clips. Thankfully, I have longtime friend and writer buddy
E. Catherine Tobler
(who writes wonderful and gorgeous fantasy stories) helping out as guest grumpy dancer. Join us as we stomp about and growl.
This video from Scissor Sisters sets the mood:
E suggested this tidbit from Sophie Ellis Bextor, and it makes me think of what my time travel's heroine, Summer, might do if she ever completely lost her marbles.
Also from E, a classic 80s dance ditty, with bonus Nathan Fillion. Dance isn't the main focus, but it sure is fun, so in it goes:
It's okay to have grumpy days, and a good friend will always help get through them. Grab a nearby bud and crank up the volume: