Happy Saturday,
mes amis
, and thanks to all who shared in our wonderful visit with Lynn Viehl.
For the readers who asked which of Lynn's free reads would be a good starting point,Lynn offers the following:
I had a wonderful time chatting with your readers; thanks for having me as a guest.
I also love new readers; it's the best part of getting out and about in the online writer community. For someone who is completely new to my work I usually recommend my novella Dark of Heart:
https://docs.google.com/file/d/0BzylBQC3SyqoZTM5OWZjNjMtMWM2NS00ZDNjLTk4ZWQtOWU1ZTA2ZGY4ZjY3/edit?usp=sharing


Dark of heart is YA and G-rated, so it's good for all ages, and I think it's a decent example of my writing style in general. It is 168 pages, however, so it's a bit of a hefty read for a freebie.
If the reader would prefer to try something shorter, then I recommend my short story Red Branch:
https://docs.google.com/file/d/0BzylBQC3SyqoY2VmYTI5ZTQtNzFjMi00NGIxLWE0M2MtMGU4MWFiMGVhNTY5/edit?usp=sharing)
That one is high fantasy, PG-13 rated but only 25 pages long. It's been my readers' favorite ever since I wrote it.
Thanks again, Lynn. It was my pleasure having you; come back anytime.
Now, for the lucky winner of Lynne's gorgeous prize pack. Let's take a moment to look at the pretties one more time while we imagine a drumroll. The prize goes to...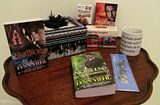 ANDERYN
!!!
Anderyn, contact me at annacbowling@gmail.com so we can get your prize headed your way.
Everyone, what are we reading this weekend?