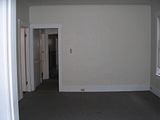 Our family is getting ready to make a much-anticipated move (that's our soon to be dining room in today's picture) which means that we are now in the decluttering and packing phase.
We've been in the same place for double digit years now, so there are a few time capsules to be found now and again. Today was one of them. This morning was rough, and I needed some time before I could face the keyboard, so to the boxes I went. We'd put this stuff away to look at later, and from the dates on the magazines, it looks like this was from slightly before my father's Alzheimer's diagnosis. I found a print galley of a favorite author's second book. Two spiral notebooks and one composition book with black pages, for writing on in white ink. Letters from friends. Printouts of pieces I'd written for fan publications. A big black binder with the printout of my first novel,
My Outcast Heart
. Handwritten notes from a talk a visiting rabbi gave at our church. Magazines for interests that I still hold and some that I no longer do.
I sorted. I read. I relived, all under the watchful eye of Skye kitty. I sorted into trash/donate/pack. I remembered how fun it was to write the fan pieces, how exciting it was to type THE END on my first novel. Then I signed up for
NaNo
. November is going to be a big month.