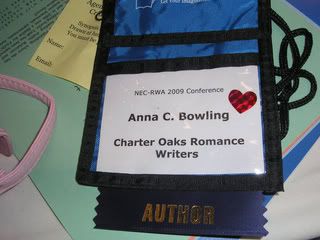 Back from the NEC conference (okay, a week later) and as always, revved to get back to the grind and get another book out. Everyone who saw the gorgeous cover art for Orphans in the Storm loved it. I got to attend a wonderful workshop with Emily Bryan on writing sex, and found Sally MacKenzie (she of Naked noblemen fame) makes a delightful lunch partner. I was able to tell her how much I'd enjoyed her presentation last year on writing linked books and that her entry in the Lords of Desire Anthology was waiting on my nightstand for me at home. ::Happy sigh:: I love conferences. Must attend more.
Good results; my roommate for the conference got a request for her first thirty pages of a novel with romantic elements, I won a free critique of first three chapters and synopsis from Sourcebooks, but the big news is...drumroll...I got a request for the full ms of
Endless Summer
from Leah Hultenschmidt at Dorchester! ::does cartwheel:: Time to polish and send out.
The not so good result of the trip, though, was driving away with my suitcase still on the hotel curb, but the DH and I went up with our friend, Linda, to retrive it, everything was there, and we stopped at Chili's on the way home, so all's good there.